Posted on Monday, May 2nd 2011
An IDC report released earlier last month saw global PC shipments fall 3.2% over the year in the first quarter of this year. IDC had projected 1.5% growth in shipments for the quarter and attributes the decline to rising fuel and commodity prices and the tsunami in Japan. In the U.S., shipments fell 10% over the previous year. Japan saw a 15.9% decline during the quarter. There was some growth in the Asia Pacific market, excluding Japan, where shipments increased 5.6% over the year.
Microsoft's Financials
Microsoft's (NASDAQ:MSFT) other divisions compensated for the decline in PC sales and helped the company to deliver a strong quarter. Q3 revenues grew 13% to $16.43 billion and EPS of $0.56 grew 24% over the year. The market was expecting revenues of $16.19 billion and EPS of $0.56.
For the second consecutive quarter this year, Microsoft's Windows divisions revenues registered a decline. Revenues for the segment were down 4% over the year to $4.45 billion. However, for the entertainment and devices segment revenues grew 60% to $1.94 billion. Microsoft's Kinect and Xbox 360 continued to do well and sold 2.4 million and 2.7 million units respectively. Office software revenues increased 21% over the year to $5.25 billion with Office 2010 becoming the fastest-selling version of Office ever. The server and tools unit revenues grew 11% over the year to $4.1 billion and the online services division saw revenues grow 14% over the year to $0.65 billion.
Microsoft's Mobile Focus Sharpens
Microsoft's mobile strategy is yielding good results. Both Gartner and IDC estimate Microsoft's Windows Phone 7 platform to outshine BlackBerry, Symbian, and even iOS sales by 2015. Below is a graph by IDC representing the change in phone OS shares from 2011 to 2015, courtesy of CNN.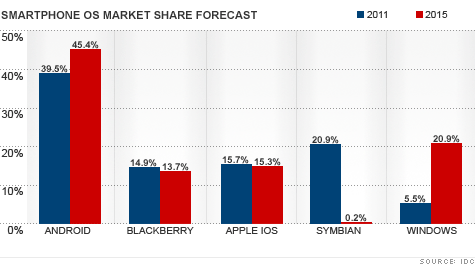 The dramatic shift in Microsoft's position is owing largely to the recently announced deal with Nokia. Through the deal, Nokia will adopt the Windows Phone platform as its principle smartphone OS, and Microsoft will be able to leverage Nokia's scale and supply network.
Microsoft is also upgrading the platform, and the new version will have multitasking capability allowing users to use apps or switch between programs on the phone while continuing to talk on the phone and even include mobile-payment technology. For apps developers, the platform will give them broader access to the phone's hardware, including the camera and motion sensor, to build newer, motion-activated apps. Windows Phone 8 is expected to be available for shipment in the fall of next year after a beta launch expected in September of this year.
Microsoft's Tablet Strategy
But Microsoft continued to flounder with its tablet strategy. The company saw sales of Windows for consumers PCs fall 8% over the year, and even sales of Windows for netbooks and small laptops fell 40% over the year. Meanwhile, Apple has been gaining ground with reported sales of 19.5 million iPads since the device's launch. According to technology market research firm, Canalys, combining sales of tablet computers with PCs makes Apple the fourth-largest PC manufacturer in the world with 10% market share. Furthermore, tablets of the other three biggest PC makers, Hewlett-Packard, Acer and Dell, do not use Microsoft software. Clearly, these are worrying signals for Microsoft. The Nokia partnership addresses their gap in smartphones, but not in tablets. For that, they need a major PC maker to join hands with. HP is pursuing a proprietary OS strategy using Palm's WebOS. That leaves Acer and Dell, and Microsoft really needs to close those.
Microsoft's Competition with Google
During the quarter, competition between Microsoft and Google intensified. Earlier this year, Microsoft accused Google of anticompetitive tactics, resulting in an investigation by the European Union into Google's business practices. Besides legal wars, the company is also working on stronger products to compete with Google's offerings.
The recently released a public beta version of Office 365 is intended to compete with Google Apps. Market studies reveal that nearly 20% of companies in the U.S., including those with more than 10,000 employees, have deployed Google Apps in some form. Microsoft's Office 365 hopes to combat Google Apps through Office Web Apps, which offers online storage and collaboration for Word, Excel, PowerPoint and other files. Office 365 Marketplace is expected to initially have 100 apps and 400 services provided by Microsoft's partners.
Microsoft also launched an ad exchange developed through its earlier acquisition of AdECN. An ad exchange lets advertisers place real-time bids for display ads. Initially, the Microsoft Ad Exchange will contain inventory from Microsoft's Windows Live, and it will gradually add inventory from MSN and third-party site. The move is expected to strengthen Microsoft's online advertising segment.
Their stock is trading at $25.92 with a market capitalization of $218.58 billion. It touched a 52-week high of $31.43 last month. All in all, Microsoft seems to be coming up with decent responses to its various challenges, but how they execute – only time will tell.