Posted on Thursday, Aug 28th 2014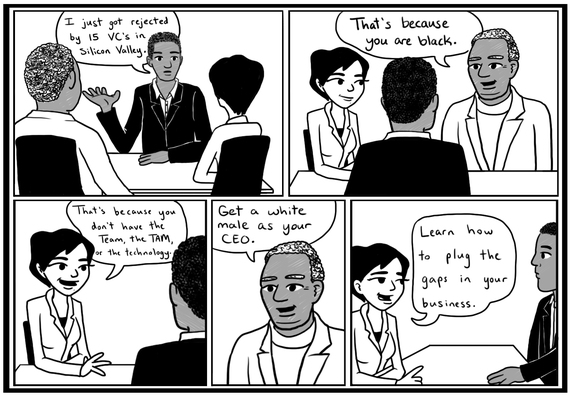 There is a general belief in Silicon Valley that the venture industry is biased against blacks and Hispanics. This week, the media is rife with commentary such as this: Tech creating black, Hispanic underclass.

Silicon Valley is creating a mostly black and Hispanic underclass of service workers who are paid low wages and few benefits to work inside some of the world's wealthiest companies, says a report released Monday by Working Partnerships USA.

Blacks and Hispanics in Santa Clara County are 28% of the work force yet make up a tiny percentage of professionals inside technology companies.

Where they dominate instead: the ranks of service workers who struggle to make ends meet in pricey Silicon Valley.

Four out of 10 security guards, seven out of 10 janitors and three-quarters of grounds maintenance workers in Silicon Valley are black or Hispanic, according to the report "Tech's Diversity Problem: More Than Meets the Eye" from Working Partnerships USA, a nonprofit that advocates for affordable housing, higher wages and access to health care.
But if you look at the issue of race bias against entrepreneurs without the desire to sensationalize it, one thing will stare at you: black and Hispanic communities are not full of tech geeks.
Contrast this with the Indians, the Chinese. From early childhood, parents harp on and on about kids needing to become doctors or engineers, and hence STEM education is considered of utmost importance. However annoying this phenomenon may be for the children while growing up, it has produced entire communities of people with robust STEM backgrounds.
And as many of these kids grow up to become engineers, they naturally find their way to the booming technology industry. They organically get involved in startups. And some of them get funded.
The black and Hispanic communities do not have this emphasis on STEM education. If they did, we'd be looking at very different statistics than what this article discusses.
My take: if you are black or Hispanic, have a STEM background and have a solid entrepreneurial idea, focus on fleshing it out such that it is robust and fully thought through. Do your homework. Validate. And if it is fundable, there is a decent chance that you can get funded without any racial bias.
Note: Bulk of the venture capital goes to tech / tech-enabled ventures, and that's really where I work. This article cannot and does not claim to address other industries.
Cartoon: Book by Sramana Mitra and Irina Patterson. Art by Mike Varouhas.
This segment is a part in the series : Entrepreneur Dysfunctions in Cartoons