Posted on Friday, Aug 29th 2014
By Guest Author Soren Petersen
Quickly separating promising design concepts from the mediocre saves time and money and mediates destructive political gamesmanship. However, the challenge is how to recognize lucrative breakthrough innovations in their infancy, when knowledge and understanding is limited. Prediction-markets and gamification provide a novel solution for this dilemma.
Prediction-markets are speculative markets created with the purpose of making predictions. Evidence suggests that these markets are as good as or better than other methods at predicting events. In practice, the use of prediction-markets, such as the odds from betting on presidential candidates, has been shown to predict the outcome of US presidential campaigns with an accuracy of 75%.
In the fall of 2013, our design research team at Hanyang University in Seoul, South Korea experimented with prediction-markets on 10 design teams developing breakthrough innovative products for Apple Computers and Fisker Automotive. We found that design teams betting on themselves and each other resulted in odds that predicted the best concepts, with an accuracy of 66% (10 times better than by luck), in week three of the project or five weeks, before final concept presentation. Even more remarkably, they predicted the performance judged by an external panel, extending the wisdom of the crowd, outside the crowd itself.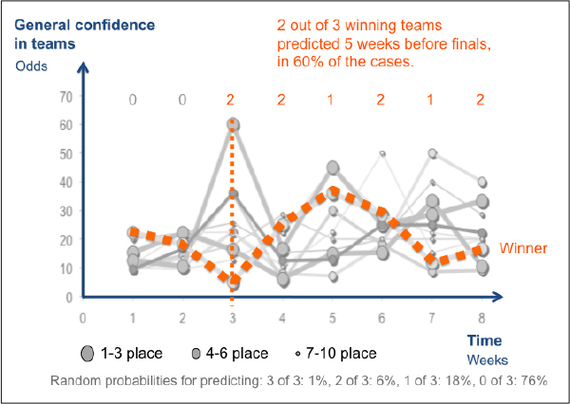 In breakthrough innovation, a broad portfolio betting strategy is the key to success. When examining the various teams' betting strategies, it was clear that the teams who applied a more differentiated strategy (the difference in the amount of the bet) and more diversified strategy (the number of teams they bet on) outperformed teams who applied a more narrow betting approach.
The winning team, comprising of Lucas Trindade Santana and Yujeong Kim, proposed the best concept as well as accrued the most winnings over the eight weekly betting rounds. The team's betting strategy was both differentiated and diversified. They also understood how to weekly gauge the other teams' performance and place their bets accordingly. Consequently, their winnings, averaged over all possible outcomes, outperformed their closest competitor by 130% in expected winnings.
It should come as no surprise that winners take all in breakthrough innovation. Displaying the different teams' accrued winnings from the betting, shows a "winner takes all" profile, no matter which team would have won. In all cases, the team with the best design was also the team performing best in the betting. This shows that hedging one's bet by betting on oneself, is a winning strategy since this is the only outcome over which one truly has any influence. That is, as long as one avoids the pitfall of arrogance, since over-confidence was found to produce the worst betting results by far.
With gamification's ability to predict the best concepts early on to come out of the concept phase, unlikely candidates can swiftly be eliminated. Management is then able, in real-time, to monitor and focus time, energy, and resources on concepts with good odds. Continuous betting and thus constantly operating with an optimal portfolio will allow for a more effective and efficient pursuit of the most promising breakthrough innovation projects.